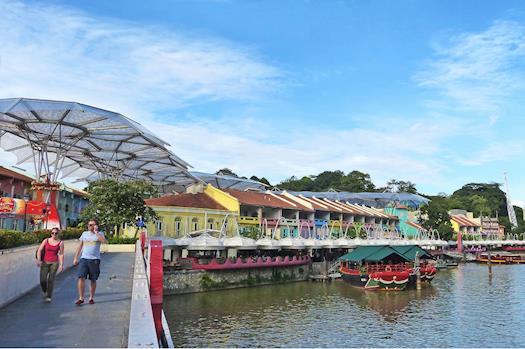 Moving from your home country can be difficult, but I would have to say that for an expat wife, Singapore is the easiest place in the world to migrate. As most women out there are aware, Singapore is considered to be the best country on the Asian continent to move to as an expat wife. This article aims to let you know about the things that should be known to an expat wife living in Singapore. This list is not only aimed at expat wives who have already moved to Singapore but is also for newcomers.

Beating the Loneliness:
It's quite natural that you may feel isolated in a new country whenever your husband is not with you. I would say that this may be the worst feeling that you may experience during the early days. However, you can overcome this by socializing. By joining the 'Singapore Expat Wives group', you will become one of many expat wives who are members of this group, thereby landing up at the right place to receive useful everyday advice. Furthermore, you may also want to consider joining some of the Facebook groups where you can also meet wives in a similar position and have a lot of fun.
Maternity Life in Singapore:
Many expectant mothers who are away from their native country often feel very depressed during their pregnancy. There are ways you can get through this difficult time more easily. Firstly, you need to wear loose clothing when you are expecting, and the hot humid weather and air-conditioned interiors in Singapore demand you to wear layered clothing. I would recommend that you to carry a scarf plus a cardigan in your handbag to ensure your comfort when moving from outdoors to indoors.
Fertility Treatment in Singapore:
Any expat wives struggling with fertility issues are in safe hands in Singapore. Being a leading hub for medical tourism, the country has gained an outstanding reputation for treating fertility problems. Lower infrastructure costs together with the low cost of living means that the treatment costs are far less when compared with North America for example (sometimes up to 50% cheaper). As the country's fertility industry has grown rapidly during recent years, it would not hurt an expat wife experiencing fertility issues to live in a country that is famous for its cleanliness and technological advancements.
To know more about the medical services available in Singapore, click here.
Dangerous Infectious Diseases in Singapore:
By being aware of the infectious diseases that are currently causing a health risk to those people living and working in Singapore, it will help you to be more prepared for them and able to monitor them continuously. Preparation and monitoring will help to prevent you from becoming sick with such diseases and the risk of loss of life due to them. In Singapore, infectious diseases which are spread by mosquitoes are common. Some of the common infections due to mosquitoes are dengue, dengue hemorrhagic fever, dengue shock syndrome and so on. Apart from these infectious diseases, illnesses such as influenza, foot and mouth disease, and diarrhea are also frequently reported.
Thus, living as an expat wife in Singapore can be made much simpler, although living in any new country such as Singapore will pose some challenges to you from time to time. By continuously acquiring knowledge and being aware of the challenges, you may encounter can help to make your life more interesting and joyful!
Author:
Tad Madsen
Viewed:
49 Views

Check Out All Of Tad Madsen's Images, Blogs, and Audios!
Comments:
Baloo Good guide here, thank you and please view legion for more info
729 Days Ago
You Must Log In To Post A Comment. Sign Up - It's

Free

!
Posted By:
Tad Madsen
Location:
Singapore, International
Storeboard City:
Singapore, Singapore
Status:
Once again, the World Bank has declared that Singapore is the best country in the world to start your business or to open up a new branch of your existing company.



741 Days Ago